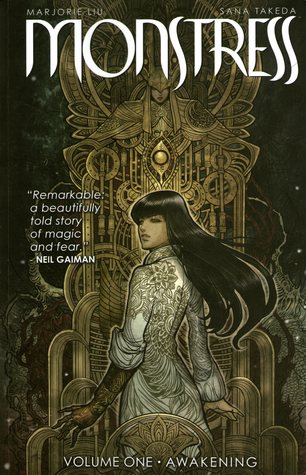 You know how it is, you fall in love with the cover of a graphic novel sometimes only to find that the work inside doesn't live up to your expectations. It's difficult to buy comics online because of this. You just don't quite know what you're going to get and when the artwork is as important as the story, that matters. So when I saw the sumptuous cover art for Monstress: Awakening online, I didn't get too excited.
But open this book at any page (as I did in a Birmingham book store before Christmas) and Sana Takeda's utterly gorgeous artwork will bewitch you. Entice you. Enthral you. (Too much? Too bad – I'm not even started yet). This is the best looking graphic novel I've seen in all my thirty-nine years, and sure, looks aren't everything, but damn, they can pack a punch nonetheless.
Despite its gorgeousness, this is no cutesy fairy tale. On the back inside cover Marjorie Liu writes about her grandparents' experiences of war in China, saying "In their stories surviving was more horrifying than dying". If one sentence could sum up Monstress it would be that one. This is a story of surviving horrific things done for horrific reasons. Liu has created an epic heroine in Maika Half Wolf, survivor of war, incarceration and maiming, who is driven by both the mysteries of her past and a barely contained anger to infiltrate one of the strongholds of the Cumaea, the powerful witch-nuns who have recently risen to rather dangerous heights. Ostensibly that is the gist of this first volume. However … yeah, wow, however … Liu isn't just telling a one-stranded story. She slowly, slowly builds up her picture of a decadent society in which multiple inter-related races share a long and troubled history. This is a world where the old gods still haunt the landscape (there are a couple of Princess Mononoke moments), where powerful relics still exist, where forgotten history is treacherous. The layers are incredible.
And the various agendas are equally complex. We have different races all with different views on the various events of past and present, we have different religious groups working against one another according to their various beliefs. We have spies and people-smugglers, slave-traders and soldiers. Pretty much every character you meet within these pages has multiple secrets and cannot be taken at face value. The only character who can apparently be trusted is the adorable young Kippa, and even then I wouldn't put any money on that statement.
I'm being as careful as I can not to give too much away here because I really think anyone with an interest in comics/graphic novels should read Monstress. (And, of course, *Morpheus impression* no one can be told what Monstress is, they have to see it for themselves). I am, however, going to share my favourite moments, in as cryptic a manner as possible: Hyenas! Cell doors! Run Kippa! The wit of Master Ren! The fate of the boy with no hands! The monster will out! Oh my, a man with wings! Needing a wee! Unmasked! Tuya?! And of course, the lessons of Professor Tam Tam! And I'm going to implore you to find a copy of this and read it for yourself. Read it for the incredible world-building, read it for what promises to be its epic story, read it for the infrequent light moments and for the dreadful darkness, read it for Maika Half Wolf, and read it for Kippa. The story isn't always easy to follow, and the loveliness of Takeda's illustrations often draws attention to the horrors of Liu's storytelling, but it's as rewarding as it is challenging and I can't recommend it highly enough.
This is the real deal.