I found this tag over at Panic at the Book Store while idly browsing yesterday and decided to do it on a whim. Very possible that I will tread some old ground here, but that's the sort of mood I'm in today. (Full disclosure: by 'today' I mean Sunday which is the when I am writing in, which will be yesterday by the time this post goes live. Who knows what mood I'm in today, by which I mean Monday … *grins slightly manically*)
How do you keep track on your TBR list?
I don't particularly. I write down the titles of interesting books as I become aware of them, and more recently I've started adding a note alongside so I know where I heard about it (there's a small handful of bloggers responsible for the majority of the books on my tbr lists – looking at you imyril, Lynn, Dina, Ola and Piotrek, Little Red Reviewer, Orang-Utan Librarian, Mogsy and Tammy … the nefarious nine!) And these lists are at the front of each year's notebook, but that's about as organised as it gets. Periodically I go back through one notebook or another and cross off anything I've read or changed my mind about in the meantime, but I make no concerted effort to read through these lists and I buy or borrow as and when I can.
Is your TBR mostly print or e-book?
I don't read ebooks at all, so it's printed material all the way for me. And a couple of audiobooks on my library app.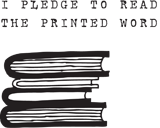 How do you determine which book from your TBR to read next?
Unless I have promised to read something (and I am trying not to do that because I end up feeling resentful when I feel I have to read a book) I pick things according to mood. That's my excuse for the ridiculous number of library books I currently have stacked up on the stairs: I might not be in the mood for anything I own!
I've mentioned before that I think very much in colours/images/impressions, so when I'm picking something to read I think about what colour I'm feeling most and what colour I want to feel and pick the book I think most likely to achieve that. It works for me.
Name a book that has been on your TBR the longest.
It's still Heart-Shaped Box by Joe Hill!
Name a book that you recently added to your TBR list
Most recent was How To Rule An Empire and Get Away With It by K J Parker, because of the Witty & Sarcastic Bookclub's review here, and Morlock Nights by K W Jeter because of a Steampunk rabbit-hole I'm currently scrabbling down.
Is there a book that's on your TBR list strictly because of its beautiful cover?
Not only because it's got a lovely cover, but I really do dig the cover for The Strange Case of the Alchemist's Daughter by Theodora Goss. The same goes for Deeplight by Frances Hardinge.
Oh, and I only bought the first couple of Lady Trent books because of the dragons on their covers. Just lucky they're turning out to be good stories too.
Is there a book on your TBR that you never plan on actually reading?
I did a purge during lockdown, so at the moment, no.
Name an unpublished book on your TBR that you're excited for
Hahahahahahaha! I have enough trouble keeping up with my own interests, moods and whims, without putting myself under further pressure by signing up to read ARCs! I mean, I have the utmost admiration for those of you that do read ARCs, but I have no idea how you're managing it! *tips hat*
***THIS JUST IN: I did request an ARC a couple of weeks ago as a dare to myself, and would you believe it the darn thing arrived in the post this morning?!! So I now feel obliged to inform you that I am going to be reading Shadow in the Empire of Light by Jane Routley pretty soon … and I'm terrified!***
Is there a book on your TBR that basically everyone has read but you?
Oh heck, there's tons of those!
Perhaps the series I feel most annoyed/upset/ashamed not to have gotten on top of is all those Realm of the Elderlings books by Robin Hobb. Some of them have been on my TBR pile almost as long as Mr Hill's debut novel.
And I do feel some frustration when everyone's reviewing something I'm clearly going to love and all I can do is add it to the list because our house is only tiny and there really isn't any more room.
Is there a book on your TBR that everyone recommends you read?
That's almost the same question as above, isn't it? I used to have a copy of The Book Thief by Marcus Zusak on my TBR pile, but I got so annoyed by people telling me I must read it that I took it to a charity shop. I love people to enthuse about books, but I hate to be pushed into reading something. I'll get to it when I get to it, you know?
A book on your TBR you're very excited to read
All of them, when I'm in the right mood. I worked out last weekend that I have 187 as yet unread books on my TBR pile (not including those borrowed from the library) and that if I dedicated myself just to reading them and nothing else, it would take me 3.9 years to read them all. Which is both sobering and kind of thrilling all at once.
I guess the book that is looking the most alluring right now is The House of Shattered Wings by Aliette de Bodard because imyril said some very good things about it, and the rest of the trilogy and both she and JobBob recently reviewed de Bodard's Of Dragons, Feasts and Murders which just made me even more interested and slightly cross that I hadn't come across this series of books before now.
The number of books on your

Goodreads

StoryGraph TBR shelf
62 so far – I've made the switch from GR to the StoryGraph Beta. I never used the Goodreads TBR shelf because it stressed me out having another list kicking around on the internet that didn't correspond to any of my written ones, but dagnabbit, StoryGraph caught me at a weak moment and the recommendations are really very good.
So that's me. Please consider yourself tagged if you fancy having a go!