I found this fabulous tag over at And On She Reads. It was originally created by One's Peculiar, and it is perfect for Wyrd and Wonder month.
The Lost Princess – A book/series you lost interest in halfway through
Back in the day, I just … couldn't … continue … Lian Hearn's Tales of the Otori series. *gasps for air dramatically* I read the first two, then moved on to shinier things. (If I remember correctly, something to do with the romance between Takeo and Kaede annoyed me, but I don't now remember what it was).
The Knight in Shining Armour – A hyped book/series you were swept up by
I do tend towards spitting and hissing when something gets hyped because I'm that person who, having never been popular, is inherently suspicious of popularity. Make of that what you will.
I did really enjoy Lev Grossman's Magicians trilogy. Although that was before it was made into a tv show. It's the best I've got for this prompt, however.
The Wise Old Wizard – An author who amazes you with his/her writing
Have I mentioned that I was blown away by C S E Cooney's Saint Death's Daughter? I did?
Then you have your answer.
The Maiden in Distress – An undervalued character you wished had a bigger storyline
I continue to lament the Donmata Morosa's much-too-small storyline in The Priory of the Orange Tree by Samantha Shannon. This woman is maintaining a heroic poker-face when Loth and Kit rock up and instead of begging them to take her along when they escape Yscalin, she shows them the secret door and waves them off. I'd pay good money to hear more about her daily life in a kingdom overtaken by dragons.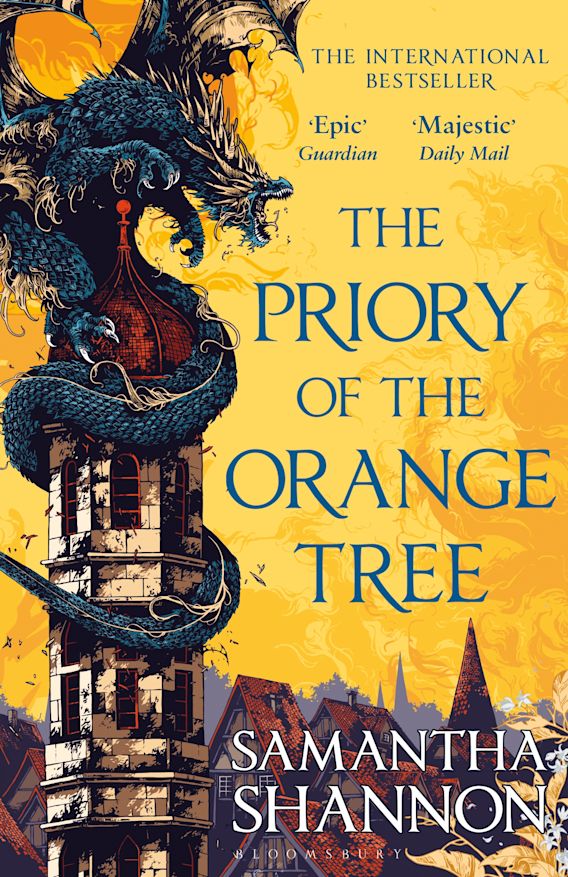 The Magical Sword – A magical item/ability you wish authors used less …
Magical jewellery has never really made any sense to me, (sorry Mr Tolkien, sir), although I'll usually roll with it. This is mostly because I find jewellery irritating IRL though, and the feeling bleeds through when I'm reading.
Also, person-to-person magical telepathic abilities tend to make me grumpy, (a) because it often feels like a lazy way of achieving something in the story, and (b) because I lived in fear of having my mind read as a child, (I didn't appreciate being told that adults had eyes in the back of their heads either). Animals being able to talk with people via telepathy, however, is delightful. I make no sense, not even to myself.
… and one you wished authors used more?
Not a magical item or ability, but I'm going to echo this excellent point made by Jess of Jessticulates and ask: where are all the centaurs at? I absolutely hear what she's saying about the influence Disney's Fantasia had on her as a kid, and despite the madness of a half-human + more-than-half-horse creature (two stomachs, one poop hole … don't get me started), I too was smitten with those pretty My-Little-Pony-ish centaurs – Dagnabbit Disney!
The Mindless Villain – A phrase you cannot help but roll your eyes at
The next character who runs their fingers through their hair will get 'accidentally' dropped in the sink*. Who are these people always mucking about with their hair like they're in an anti-dandruff shampoo advert?
(*This is absolutely not true. I would never do this).
The Untamed Dragon –  A magical creature you wish you had as a companion
So first I was thinking bees, like in Robin McKinley's Chalice, because that'd be an excellent way to clear a room/table/building. But that was because I was really trying to think of something other than a dragon, which would absolutely be my first choice – because who wouldn't want a dragon as their partner in crime? – but the practical part of me knows that feeding a dragon would be a drain on our meagre resources, and anyway, where on earth would it sleep?
So then I'm trying to think of small dragons, like the swamp dragons that Lady Ramkin cares for at The Sunshine Sanctuary in Ankh-Morpork, but less … sick … and I remember the tea dragons. Kay O'Neill's tea dragons are adorable. The difficulty would be in picking just one as a companion, but I'm pretty sure the Rooibos tea dragon is the one for me. They like to play at rough and tumble, they don't realise they're annoying to others, and they're pretty robust. (And this has reminded me I need more tea dragon stories in my life, so now I have to go buy the next couple of volumes of this charming graphic novel collection).
The Chosen One – A book/series you will always root for
Well this is a mood prompt if ever there was one. My answer today won't be my answer tomorrow. I mean, how can a person choose amongst their favourites, right?
That said, everything I've read by Frances Hardinge has been weird, wonderful and just too cool for school, and I don't know why the internet is not powered by the humming of book bloggers everywhere agreeing that's she's awesome. I have a massive soft spot for Mosca Mye and Eponymous Clent so their duology Fly By Night and Twilight Robbery is my choice right now. Imagine me plonking these two books in front of you mic-drop style.
And now it's your turn – consider yourself tagged if you want to have a go!