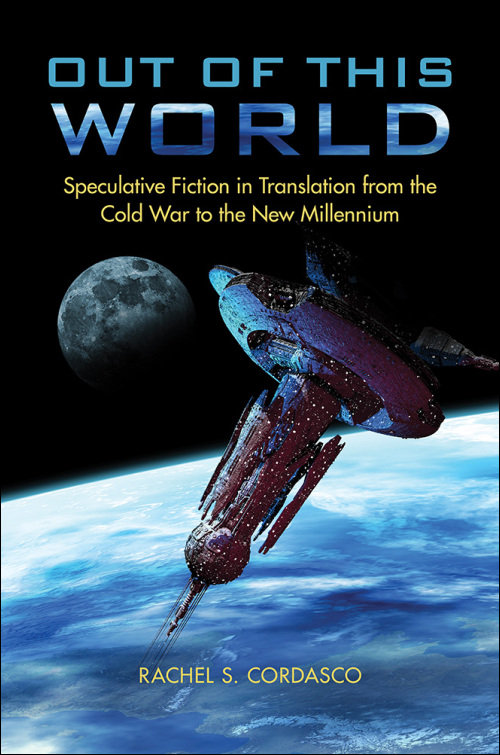 A copy of this book was very kindly provided me by the publisher. I can't promise that this didn't affect my feelings about it, but a book is a book however I acquire it, and I can promise that all opinions are my own.
This post is long overdue. I received a copy of this from the University of Illinois Press back in April 2022 and am mindful of how long it has taken me to finally write up my thoughts. Especially as this is a really excellent introduction to translated speculative fiction that deserves to have its flag enthusiastically waved.
"Out of This World, then, is a resource for anyone interested in learning more about adult-level, book-length prose speculative fiction in English translation since 1960."
Within this clearly outlined, meticulously researched book, Cordasco provides the reader with a brief history of speculative fiction in translation, complete with a look at the themes and trends found in the works in various languages. Focusing on those languages in which at least ten works have been translated into English, she tackles fourteen languages in all, arranging them alphabetically and dedicating a chapter to each.
Each chapter opens with an introduction from a different writer/translator who works in the language under discussion. These introductions are brilliant: some give a history of speculative fiction in that particular language, some discuss the issues in translating into or out of English. As an example, in their introductions to Czech and Hebrew speculative fiction in translation (or SFT) respectively, authors Julie Novàkovà and Keren Omry both talk about how gender is a part of Czech and Hebrew sentence structure, so that the gender ambiguity of a work such as Ann Leckie's Imperial Radch trilogy cannot be successfully interpreted and that kind of story isn't tackled in these languages. Insights like these feel so precious to me – giving me a greater appreciation of how thinking can be shaped by language just as much as by culture, politics or environment.
Equally fascinating was how the discussion came back again and again to how SFF is viewed and received in other countries. While I am used to the slight sneer that usually greets my telling people that I read sci-fi and fantasy and wasn't overly surprised to discover that this isn't just a British thing. I was interested to learn that in some countries – most notably in Korea, and in Poland where, in the words of the wonderfully enthusiastic journalist Wojciech Orliński, "Fantastyka is present at the very core of our cultural DNA" – the speculative is a far more intrinsic part of their literary history. It is also feels significant that the popularity boom that SFF is currently experiencing here appears to be happening near globally and a genre that has been seen as frivolous, simple or childish is being used to explore national and international concerns such as the trauma of war and colonisation, climate change and rising populations, and to critique political regimes and give a voice to those who have been marginalised.
I have talked before about how I love speculative fiction for its exploration of ideas and how it broadens my worldview. Reading Out of This World gave me the same buzz that I get from having my mind stretched by a great piece of fiction. It has given me a clearer idea of what the global SFF scene looks like and how SFF is shaped by its country of origin. It has also given me a thirst for extending my reading. I was also struck by the underlying optimism that Cordasco and her contributors expressed in discussing the state of SFF in general, and SFT in particular. This is summed up perfectly by academic author Sonja Fritzsche, in her introduction to the chapter on German language SFT:
"It opens up the reader and their imagination to other worlds and knowledge that would have otherwise remained inaccessible but for translation."
This is exactly what Corsdasco has done for me in Out of This World and I can't recommend this book highly enough to those who want to learn more about the world of speculative fiction out there.
Addendum:
For those who're interested Cordasco also blogs about speculative fiction in translation here.
I have made a first-sweep reading list of some of the texts discussed by Cordasco that immediately appealed to me, which I thought you might get a kick out of. If anyone has read any of these titles, please do let me know – I'd love to hear your thoughts:
Frankenstein in Baghdad by Ahmed Saadawi (Arabic)
Atlas: The Archaeology of an Imaginary City by Dung Kai-cheung (Chinese)
R.U.R. (Rossum's Universal Robots) by Karel Čapek (Czech)
The Rabbit Back Literature Society by Pasi Ilmari Jääskeläinen (Finnish – and already on my tbr stack thanks to Sarah of Little Frog Scribbles)
The First Century after Beatrice by Amin Maalouf (French)
The Carpet Makers by Andreas Eschbach (German)
The Coincidence Makers by Yoav Blum (Hebrew)
Nexhuman by Francesco Verso (Italian)
Hybrid Child by Ōhara Mariko (Japanese)
Flowers of Mold by Ha Seong-nan (Korean)
The Old Axolotl by Jacek Dukaj (Polish)
Vita Nostra by Marina and Sergei Dyachenko (Russian – and yes, already on my tbr stack thanks to Aquavenatus)
A Planet for Rent by Yoss (Spanish)
The Unit by Ninni Holmqvist (Swedish)